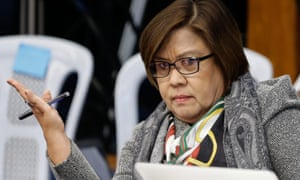 The Guardian:
A leading member of the Philippines' senate has called for an international criminal investigation into the country's president in an effort to stop a vicious war on drugs that has killed more than 3,800 people since June.

Senator Leila de Lima, a human rights advocate and former justice secretary, has told the Guardian that foreign intervention was the only hope of putting an end to "state-inspired" extrajudicial murders that have terrorised parts of the population since president Rodrigo Duterte came to power four months ago.

In an interview De Lima urged world leaders to consider sanctions and the International Criminal Court (ICC) in the Hague to launch an investigation into Duterte and those who worked for him.
Regardless of how noble President Duterte's motives are, for cleansing his country of drugs, this doesn't excuse him from using methods that are illegal.
This is how the world is viewing the Philippines from the outside and, frankly, it sounds terrifying. I wouldn't want to go visit at any point now and probably scores of tourists and businesses wouldn't either.
I really wonder how the news is like on the ground, in the streets of Manila and for average citizen. Are they happy? Do they still whole-heartedly support their president?
In another 3 years when the bloodshed has subsided, this may really mark the turn-around for the Philippines as a whole. But even so, does the ends really justify the means? We'll just have to wait and see.